MALLACOOTA HIREBOATS Quality boats-location and service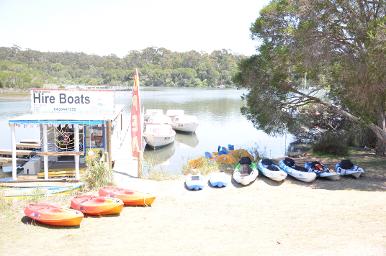 About Us
Mallacoota Hire Boats was established some 40 years ago. The business has been under new ownership since November 2013. All our power boats ,kayaks , stand up boards and pedal boats are constantly maintained and always in great condition for you next aquatic adventure. Our friendly staff always eager to offer advice on weather conditions, tides and fishing locations. The boathouse is equiped with fishing tackle, bait, cold drinks and munchies. Fishing rods are also available for hire.
Mallacoota Hireboats is perfectly situated only 100m from the main wharf in Mallacoota in the lower camp park area. Five minutes and you are situated in the middle of the best fishing spots in the bottom lake, Goodwin sands , John bull area prolific Flathead , Bream , Whiting , salmon , tailor.


History
The power boats were initially fitted with diesel inboard motors (putt putts) , all now have outboard motors fitted with forward steer and electric start.

Testimonials